The recipes I create are always based on flavors and ingredients I personally love, and anyone who knows me can attest to the fact that I simply can't get enough spicy foods! My Cheesy Cajun Chicken Alfredo Pasta has just enough cajun seasoning to give it that little kick, which is balanced out perfectly with rich, creamy alfredo sauce.
Other noteworthy ingredients in this tasty comfort food dish include fresh baby spinach, roasted red peppers, and both parmesan and mozzarella cheese. After all, you can't go wrong with cheesy pasta!
I think this is a meal the whole family will enjoy, but if you're nervous about the level of spiciness, you can definitely use less cayenne pepper and/or omit the red pepper flakes! I like to serve this dish, which comes out to 9 SmartPoints per 1.5 cup serving, with a side salad to get in a few more veggies!
If you end up with extras, this recipe also tastes just as good the next day as leftovers!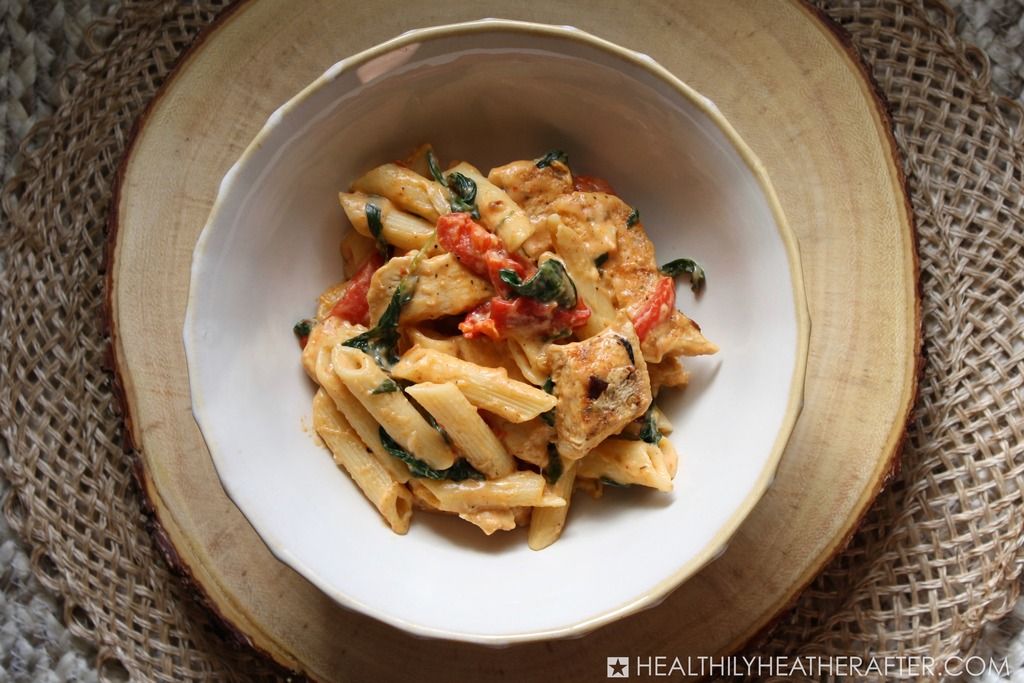 Cheesy Cajun Chicken Alfredo Pasta
Enjoy this spicy, cheesy pasta dish that incorporates some of my favorite flavors with a side salad or all on its own!
Ingredients
1 1/2 teaspoons

olive oil

1/4 teaspoon

salt

1/2 teaspon

black pepper

1/2 teaspoon

dried oregano

1 teaspoon

cayenne pepper

1 teaspoon

crushed red pepper flakes

1 teaspoon

garlic powder

1 1/2 teaspoons

paprika

1 pound

boneless, skinless chicken breasts cut into bite-size pieces

12 ounces

penne pasta, uncooked (I used Smart Taste)

3 ounces

fresh baby spinach

12 ounce jar

roasted red peppers, sliced into strips

15 ounces

light alfredo sauce (I used Classico)

1/3 cup

reduced fat shredded mozzarella cheese

1/4 cup

finely shredded parmesan cheese
Instructions
1. Cook pasta according to package directions and drain.

2. Meanwhile, put salt, pepper, oregano, cayenne pepper, crushed red pepper flakes, garlic powder, and paprika in a small bowl and mix until combined.

3. While pasta is cooking, heat the olive oil in a medium-size skillet over medium-high heat. Add chicken.

4. Sprinkle about half of the spice mixture over the chicken, turning chicken over after 3-4 minutes. Sprinkle remaining spice mixture over the chicken and cook for another 3-4 minutes, or until chicken is completely cooked through. Set chicken aside.

5. Mist a large pan with cooking spray, and add roasted red peppers. Cook over medium-high heat until soft, about 3 minutes. Add the baby spinach and cook until wilted.

6. Lower the heat to medium and add the alfredo sauce, stirring until hot.

7. Add the pasta, chicken, mozzarella cheese, and parmesan cheese to the sauce mixture and stir until well-combined.

WEIGHT WATCHERS SMARTPOINTS: 9 per 1.5 cups (calculated using the recipe builder on weightwatchers.com)


Details
Prep time:
Cook time:
Total time:
Yield:

6 (1.5) cup servings