I don't know about you, but I sure do adore a good slice of pizza. Something about the delicious combination of melty cheese and flavorful toppings gets me every time! Since pizza can be pretty high in the SmartPoint department, I often use some of my favorite ingredients to make pizza at home and save some calories!
Although I usually order my pizzas with pepperoni, pineapple, and jalapeños (yum!), my Pepperoni and Sausage Pizza Dippers are topped with turkey pepperoni and lean Italian sausage, along with chopped bell pepper and red onion to pack in a few more veggies while also upping the flavor!
I think the best part of this recipe is the addition of a garlic butter mixture that gets brushed on right before adding the cheese and all the other toppings!
If you haven't figured it out already, these pizza dippers are a tad different than your typical slice of pizza, as you don't add any sauce to the pizza itself! Instead, this delicious finger food gets dipped into the pizza sauce one bite at a time! Feel free to change up any of the toppings to fit your tastes - just be sure to note that it might change the SmartPoints value!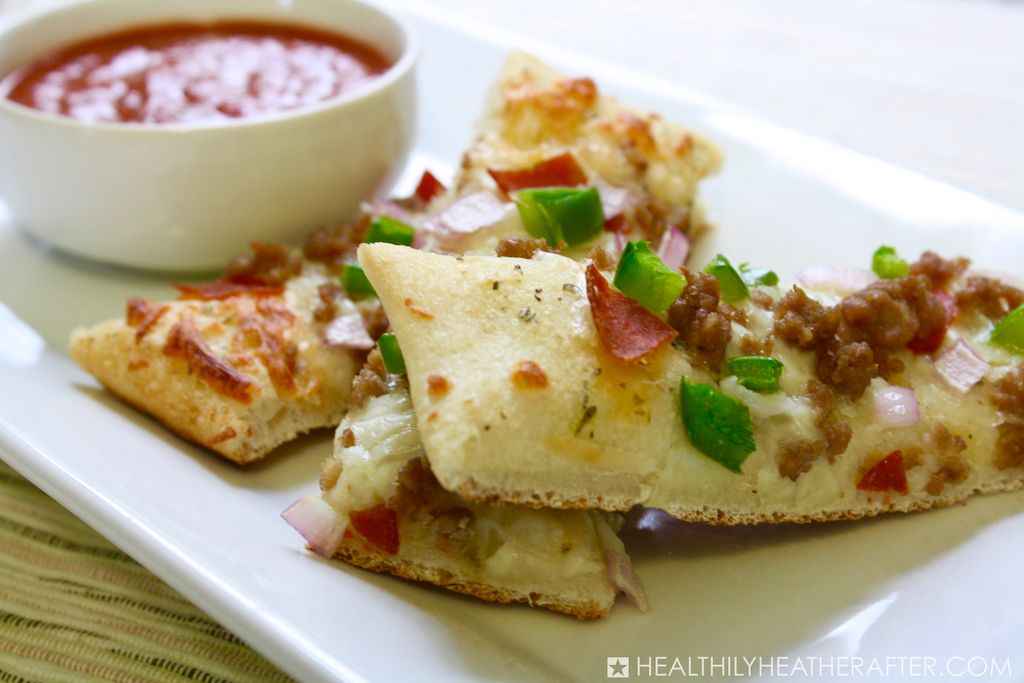 Pepperoni and Sausage Pizza Dippers
These pizza dippers omit the addition of pizza sauce on the actual pizza itself. Instead, enjoy your pizza sauce as a dip once the pizza is done baking!
Ingredients
1

(13.8) ounce can of Pillsbury Classic Pizza Crust

2 tablespoons

light butter, melted (I used Light I Can't Believe It's Not Butter)

1 tablespoon

reduced fat grated parmesan cheese

1 teaspoon

garlic powder

1/2 teaspoon

Italian seasoning

1 link

lean Italian turkey sausage, casing removed (I used Jennie-O)

10

turkey pepperoni, cut into fourths (I used Hormel)

1/4 cup

green bell pepper, diced

1/4 cup

red onion, diced

1 cup

2% mozzarella cheese

3/4 cup

pizza sauce (I used Classico Fire Roasted)
Instructions
1. Pre-heat the oven to 375 degrees. Line a large baking sheet with parchment paper.

2. While the oven is pre-heating, cook the Italian sausage in a small pan over medium-high heat for about 5 minutes or until lightly browned, breaking it apart with a wooden spoon or spatula as it cooks. Remove from heat and set aside.

3. In a small bowl, mix together the melted butter, parmesan cheese, garlic, and Italian seasoning and set aside.

4. Unroll the pizza dough onto the parchment paper, flattening a bit with your hands to make sure it is an even thickness throughout.

5. Using a silicone basting brush, spread the butter mixture evenly across the top of the pizza dough.

6. Sprinkle the mozzarella cheese over the entire pizza dough. Add the pepperoni, cooked Italian sausage, and diced pepper and onion.

7. Bake in the oven for 12 minutes, or until the edges are a nice golden brown color.

8. Remove from the oven and allow to cool for 3-4 minutes. Use a pizza cutter or sharp knife to cut the pizza into 16 equal pieces.

9. Serve with pizza sauce.

WEIGHT WATCHERS SMART POINTS: 3 per pizza dipper with 3/4 tablespoon of pizza sauce; 6 per two pizza dippers with 1-1/2 tablespoons pizza sauce; 9 per three pizza dippers with 2-1/4 tablespoons pizza sauce
Details
Prep time:
Cook time:
Total time:
Yield:

16 dippers + 3/4 tablespoon pizza sauce each