Y'all... I'm just going to go ahead and throw it out there - this is hands-down my favorite creation thus far. I seriously had to stop myself from getting seconds. If you like pizza and Philly cheese steaks, I promise you will love this recipe! You get to enjoy a delicious combination of these foods for only 6 SmartPoints a slice, which is a win-win in my book!
I'm not entirely sure how this idea came to me, honestly. Perhaps I thought of it because I'm always in the mood for pizza? That's definitely a possibility! Ultimately, it doesn't really matter how I thought of this dish, because you get to enjoy it either way!
The best part of this pizza, in my opinion, is that it tastes like you are consuming 20 SmartPoints a slice. In other words, it certainly doesn't taste like "diet food." Give this recipe a shot - you won't be disappointed!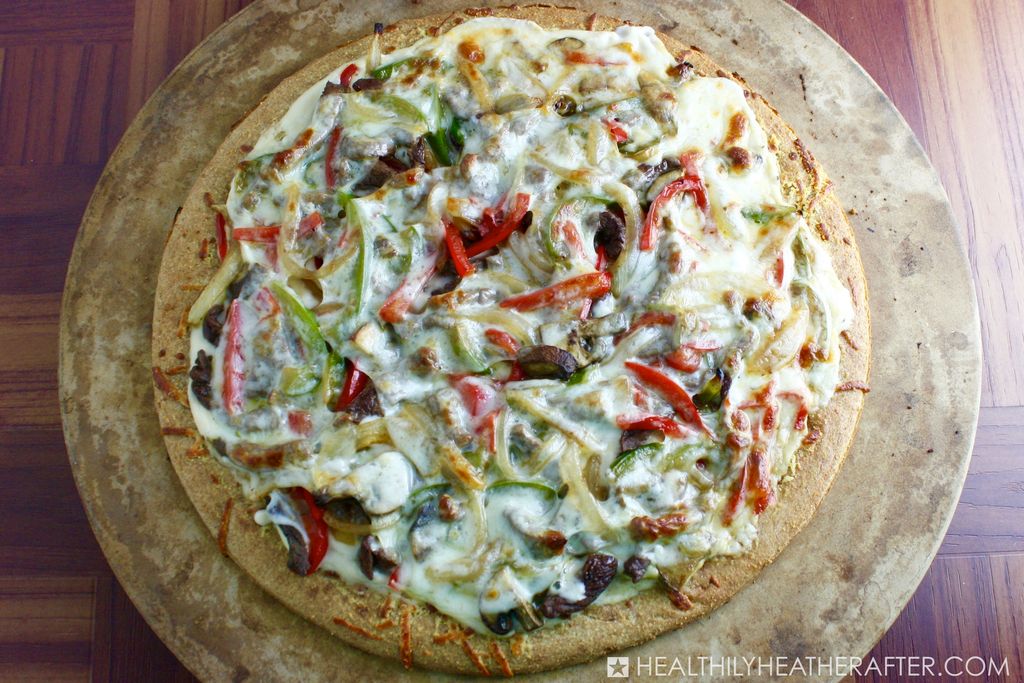 Philly Cheese Steak Pizza
If you love pizza and Philly cheese steaks, this recipe is for you! It may be low-calorie, but it certainly doesn't taste like it!
Ingredients
1

whole wheat pizza crust (I used Boboli)

2-1/2 tablespoons

light butter (I used Light I Can't Believe It's Not Butter)

1/2 tablespoon

garlic powder

1/2 tablespoon

light grated parmesan cheese

6 oz

lean sirloin beef, flattened and cut into thin strips

1/2 teaspoon

salt

1 tablespoon

Worcestershire sauce

1/2 cup

green bell pepper, sliced into thin strips

1/2 cup

red bell pepper, sliced into thin strips

1 cup

onion, sliced into thin strips

1/2 cup

mushroom slices, halved

1/2 cup

light alfredo sauce (I used Classico Light Asagio Romano Alfredo)

6 slices

thin provolone cheese, halved (I used Sargento Ultra Thin)
Instructions
1. Pre-heat the oven to 450 degrees, and place the pizza crust on a pizza stone or baking sheet. 2. In a small bowl, melt 2 tablespoons of the butter. Mix in the garlic powder and grated parmesan cheese. Set aside. 3. Spray a pan with cooking spray. Add the sirloin steak, Worcestershire sauce, and salt to the pan. Cook over medium-high heat for 3-4 minutes, stirring occasionally and turning the steak to cook on all sides. 4. Remove the steak from the pan and set aside, leaving the juices in the pan. Reduce heat to medium and add the remaining 1/2 tablespoon of butter to the pan. 5. Once the butter has melted, add in the bell pepper and onion. Cook, stirring occasionally, for 7-8 minutes, or until the vegetables are soft. Add the mushrooms and cook for an additional 2-3 minutes. Add the steak back in, mixing it to combine with the vegetables. Remove from heat and set aside. 6. Get your butter mixture from earlier and brush over the entire pizza crust. 7. Spread the alfredo sauce evenly over the pizza crust, leaving about 1 inch all the way around the edge. 8. Sprinkle the steak and vegetable mixture evenly over the pizza. 9. Place the provolone cheese on the pizza, covering as much of the vegetables as possible. 10. Place the pizza in the oven and bake for 10 minutes. Turn the broiler on and cook for an additional 1 minute. Be sure to watch the pizza closely to make sure it doesn't burn! WEIGHT WATCHERS SMART POINTS: 6 per slice (calculated using the recipe builder on weightwatchers.com)
Details
Prep time:
Cook time:
Total time:
Yield:

6